I am sort of away this days because I got a new laptop. Check it out.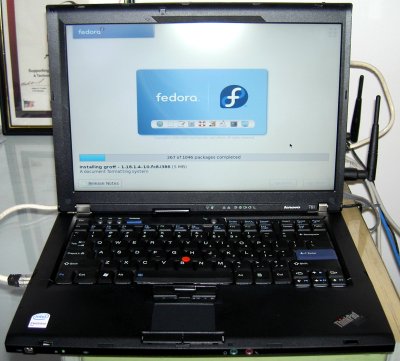 My previous laptop was a IBM Thinkpad T40, Pentium M, 512MB RAM, 1024×768 screen size, CD-RW, Cisco WiFi/b, no bluetooth. Served me well for 4 years.
The new one is a Lenovo Thinkpad T61, Intel Centrino Pro (dual core), 2GB RAM, 1440×900 screen size, DVD-RW, Intel WiFi/g (see this comment to make it work), bluetooth, integrated SD/Memory Stick/xD/etc card reader, Firewire interface. Much better. Details on Smolt.
I am writing this while Fedora 8 (including some Livna packages) is being installed over the network, as you can see.