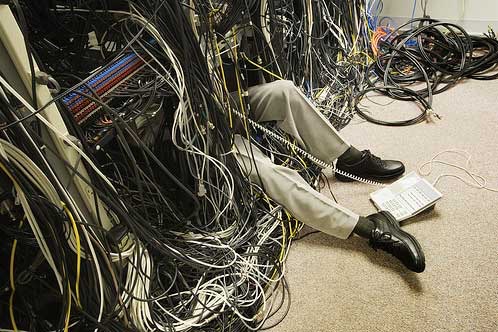 Is the IT department in your organization overwhelmed with infrastructure plumbing that crowds out the work that can bring real value to the business?
This is often how line of business leaders see their IT teams—tangled up in wires—so it's of little surprise when they seek options that deliver value quickly rather than partnering with internal IT organizations. The alternatives typically involve acquiring services from public cloud service providers like Amazon Web Services, SoftLayer, SalesForce.com and others.
Mobile technologies are now giving organizations new ways to reach their customers and employees. Companies have learned the power of user engagement and continuous feedback, and they want solutions that take advantage of these trends. Lines of business are eager to lead innovative projects that use mobile, data, social networks and cloud. Adapting to these technologies, however, requires unprecedented agility and rapid innovation, which some traditional IT organizations struggle to achieve.
This conflict doesn't have to be the case, though. Information technology is part of the fundamental strategy for realizing organizational excellence and positive business outcomes today, and that means that IT practitioners should really be the heroes and save the day!
How cloud is enabling innovation
Cloud is the superset name for the tools, practices, disciplines and delivery methods that enable and support this new generation of business-led, IT-supported projects. Cloud provides the agility these changes demand and can therefore help reduce the tension between lines of business and IT.
Cloud is not virtualization, nor is it a computer sitting in a remote data center; it is a wide range of disciplines that enable the third platform era, spanning from software-defined infrastructure to the API economy to new service acquisition models. Cloud even redefines relationships between those who use services and those who provide services—between, for example, lines of business and the IT organization, or between developers and system administrators—in what is commonly known as DevOps.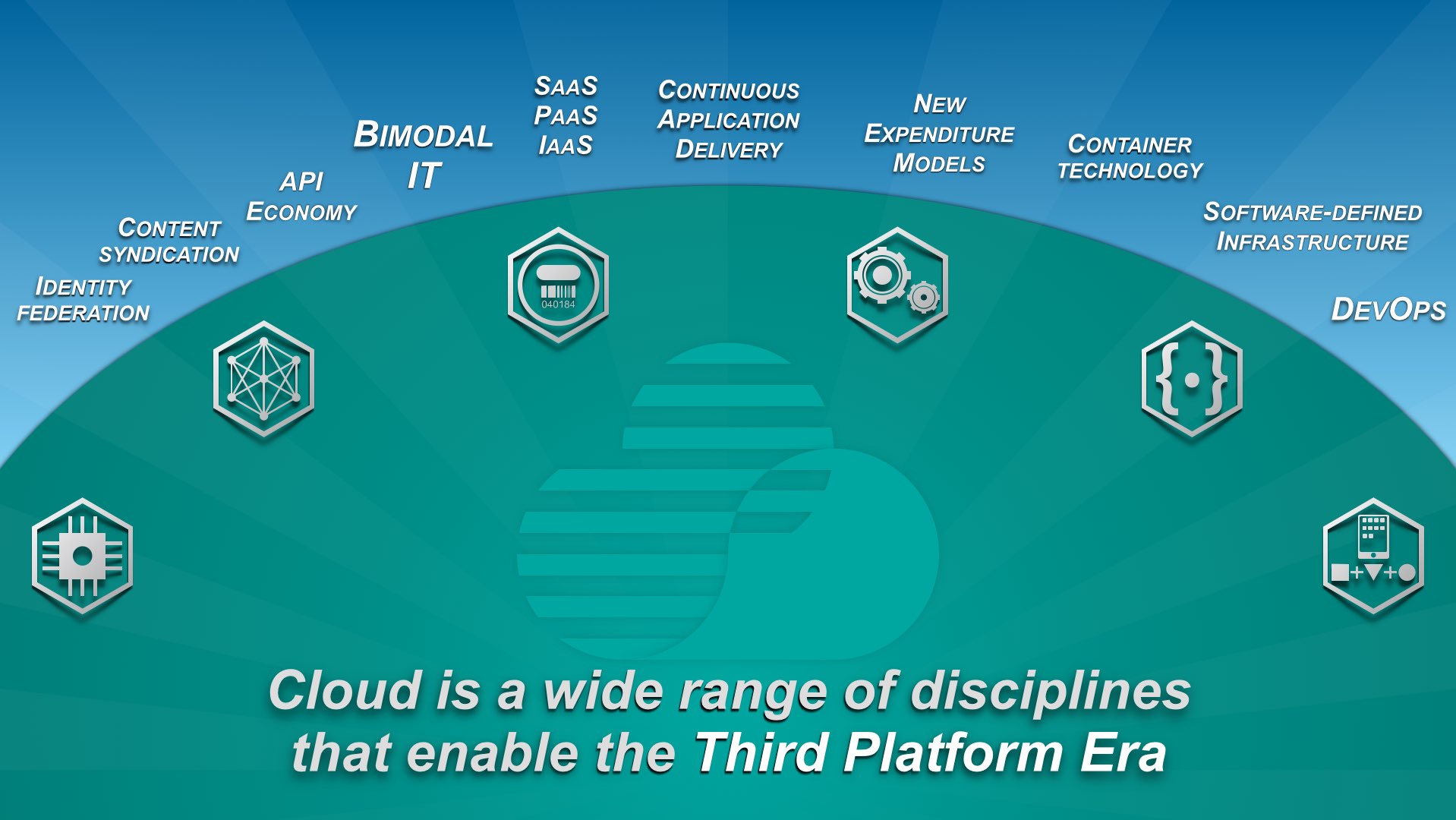 Entry points to the cloud journey
To cloud-enable your operations means to slowly incorporate cloud disciplines into your enterprise. Here are some entry points to get you started on the cloud journey:
Test and development environments: Use the elasticity of infrastructure as a service (IaaS) clouds during test periods, releasing the resources when finished—and ceasing expenditure accordingly.
Augmentation of existing resources: Use the cloud to improve existing applications, either as failover, for temporary increased capacity or as a content delivery network.
Integration: Build new applications that integrate with existing databases or other services on premises.
New applications: Take advantage of the API economy, making new apps thinner. Outsource part of required functionality to software as a service (SaaS) and focus only on what makes your app special. Stop worrying about infrastructure plumbing thanks to the convenience and elasticity of platform as a service (PaaS), where you get pre-installed, pre-secured, pre-integrated middleware.
Migration to cloud: Offload your infrastructure by moving existing apps to the cloud, including refactoring the existing applications to use cloud services (SaaS, PaaS).
Current infrastructure agility: Use cloud technologies to cloud-enable existing infrastructure, applying standardization, federated authentication (such as OAuth, SAML or OpenID), improved manageability and automation through software-defined network, storage and compute.
Application lifecycle agility: Apply DevOps techniques to improve application testing and deployment agility. Release application versions more frequently. Reduce friction between developers and system administrators, making them work together in more productive ways. Make use of deep systems automation, installation and configuration up to the barebones of your platforms and infrastructure.
Information technology has reached a point of no return in terms of business digitization and enterprise penetration. It is mature, essential and strategic. In this context, cloud is the operating model to lead IT to the next level. The incorporation of these cloud disciplines can help companies to move forward, with business and IT teaming up for innovation and digital transformation in the third platform era.