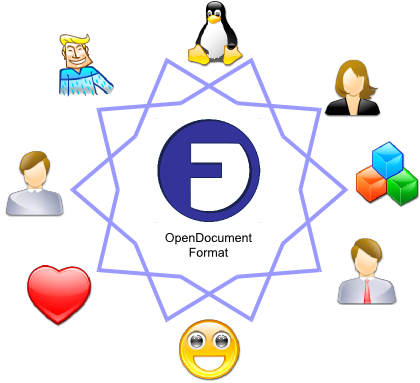 This is real Interoperability
Technical specifications for global interoperability and freedom
Interoperate through standards
Software product is less important
Switch products and keep access
Microsoft started their so called "interoperability" initiative. With a deeper look we find that the main objective of the released specifications is to let developers interact with their products only, something I like to call Intra-operability.
This is Intraoperability
Technical specifications for interaction with and favor the product
Interoperate through the product
Software product is the main player
Switch product and loose access
See the difference?
Microsoft technical specifications have serious technical and legal issues, and are being released not to increase interoperability across people, organizations and applications, but to leverage the use of their products. For the standard document format scenario: OOXML is about allowing other people to interact with files that are primarily generated and manipulated with Microsoft Office. It is not about full interoperability, which would enable competition with Microsoft Office, for obvious reason.
For each purpose or scope, better open standards exist and should be adopted and used instead: Java versus .NET, XHTML versus IE-campatible-only DHTML, ODF versus OOXML, etc
My friend Cezar Taurion has also written some words about Intra-operability (in portuguese). Bob Sutor also put together some words about it.
These graphics are available in a friendly Creative Commons license, in this animated ODF file, in case you want to integrate them in your presentations. PDF export also available.